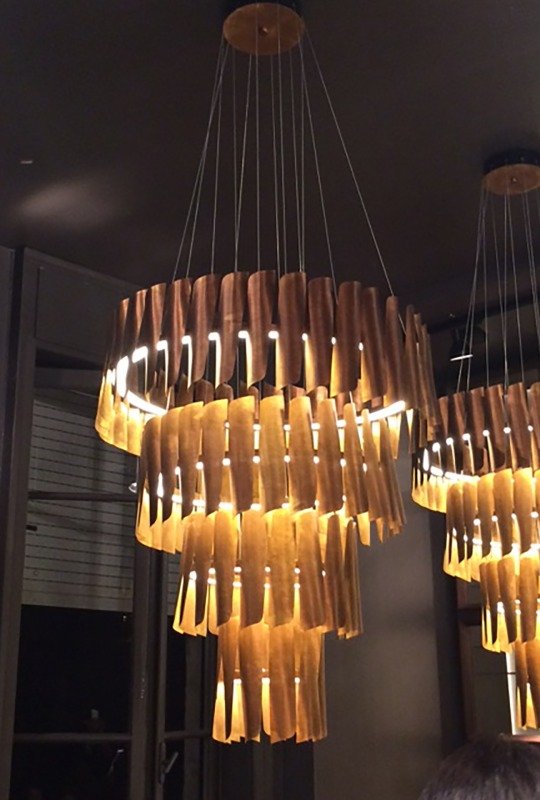 BK CHANDELIER | Henge
Adding a heightened sense of elegance to any commercial space is the BK Chandelier. A stunning cascade of burnished silver leaves to join Henge's collection of versatile Ring light designs.
Dimmable pendant led lamp (energy efficiency index A), energy saving with warm light, in several compositions made up of burnished finish brass rings or H-Silver® using traditional
techniques available in different sizes. Transformers inserted in the ceiling rosette, rings powered with low voltage through suspension wires.
Measurements and Specifications
2 ring composition
1 x Ø 32 cm ring with led; 12W - 950Lm - 3000K
2 x Ø 21 cm ring with led; 8W - 636Lm - 3000K
Total 20W - 1586Lm
3 ring composition
1 x Ø 40 cm ring with led; 14,7W - 1168Lm - 3000K
2 x Ø 32 cm ring with led; 12W - 950Lm - 3000K
3 x Ø 21 cm ring with led; 8W - 636Lm - 3000K
Total 34,7W - 2754Lm
4 ring composition
1 x Ø 50 cm ring with led; 18,7W - 1482Lm - 3000K
2 x Ø 40 cm ring with led; 14,7W - 1168Lm - 3000K
3 x Ø 32 cm ring with led; 12W - 950Lm - 3000K
4 x Ø 21 cm ring with led; 8W - 636Lm - 3000K


Add to Wishlist
Remove from Wishlist
Add to Wishlist