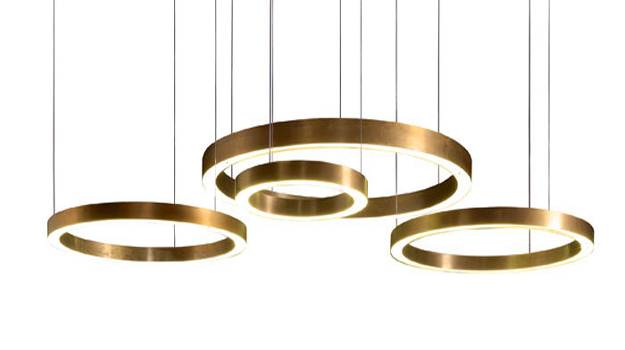 RING HORIZONTAL LAMP | Henge
Pendant energy saving led lamp (energy efficiency index A) with warm light, formed with rings of various sizes and types of illumination; incorporating transformers in the ceiling rosette, low voltage power supply to the rings through the suspension cables. Standard overall height 180 cm.
Finish
H-Silver®: pure 99.9% silver on brass, burnished by hand using traditional techniques, which is a result of an exclusive HENGE recipe.
Measurements and Specifications
Ring Ø 40 cm with leds pointing downward; 19W 1400Lm 3000K
Ring Ø 50 cm with leds pointing downward; 23W 1700Lm 3000K
Ring Ø 60 cm with leds pointing downward; 27,5W 2050Lm 3000K
Ring Ø 70 cm with leds pointing downward; 31W 2270Lm 3000K
Ring Ø 100 cm with leds pointing downward; 45W 3350Lm 3000K


Add to Wishlist
Remove from Wishlist
Add to Wishlist